Pet-Assisted Therapy
Last updated
Due to ever changing COVID-19 situation we are not scheduling any additional in-person programs between now and June. If you are interested in a program July and beyond or a virtual program, please fill out the appropriate request keeping in mind that we might need to cancel or reschedule depending on the situation. Please contact Elkie Wills at ewills@sdhumane.org if you have any questions or are interested in a virtual version of one of our programs.
---
San Diego Humane Society has been bringing the joy of animals to people for more than thirty years through its Pet-Assisted Therapy (P-AT) Program!
The Pet-Assisted Therapy program is designed to share animals with people of all ages in care facilities, including convalescent homes, hospitals, mental health centers, juvenile detention centers, corporate offices and children's programs. Volunteers bring rabbits, guinea pigs, rats, and dogs to visit people who aren't able to experience the joys of pet ownership. Our program proudly serves over 20,000 clients each year.
---
Kitten Crashers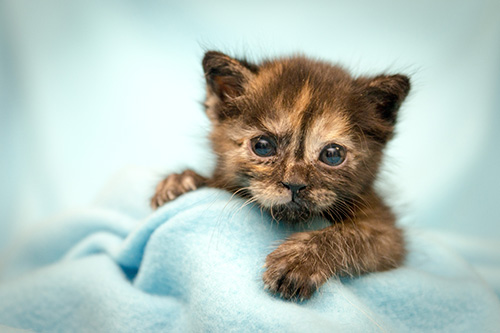 A fur-fix virtually delivered right to your employees.
Can't get enough of adorable kittens?
Schedule a virtual "Kitten Crash" for your business, organization or family. This blissful 15 mindful minutes of kitten fun is the purr-fect break for your work day or special event.
Best of all? Your $50 minimum donation will help save even more lives by supporting our Kitten Nursery and Community Engagement programs!
Email your name, company information, and preferred timing to Community Engagement for more information and to book your virtual Kitten Crash.
---
Pet-Assisted Therapy Site Visits
P-AT visits are conducted at care facilities throughout San Diego county. Due to the popularity of our program, we are unable to add new sites to our calendar or waiting list at this time. We encourage you to reach out to another local therapy animal organization to set up visits for your care facility.
---
De-Stress Events
We offer one-time P-AT "de-stress" events to corporate and college groups. Organizations have a choice between our P-AT team (a rabbit, dog, guinea pigs and rats), or dogs only for these events. Cost: $50
Request a de-stress P-AT visit
---
Group Social Hour
Adult groups of 15 or less are invited to help socialize rabbits, guinea pigs and fancy rats either in our Education program or available for adoption at the San Diego Campus. Your volunteering provides them with valuable enrichment during their shelter stay.
This program not only provides a great opportunity for individuals to have hands-on interaction with animals, but also for us to learn more about their personalities helping us place them in the best home possible. Cost: $50
---
Your Dog, the Canine Ambassador Volunteer
The dogs who participate in our P-AT program have passed a temperament assessment, including exposure to small pets. These Canine Ambassadors and their people (a P-AT volunteer) provide an extra dimension of happiness to clients.
If you are interested in volunteering with your dog in this role:
Review our Canine Ambassador requirements
---
Thanks for visiting our Kitten Cam brought to you by Purina. You never know who or what our Kitten Cam may be highlighting. It could be a queen and her kittens, a pen full of playful kittens or nap time! Visit the Kitten Cam regularly to see who might be in the spotlight!