Puppies: Socialization Checklist
Last updated
SET UP FOR SUCCESS
The first three months of your puppy's life is the most important time for exposing them to as many new people, animals, stimuli and environments as possible so they can learn to behave and interact successfully with the world around them. Early socialization and positive reinforcement (R+) training classes can go a long way to creating a lifelong bond between you and your dog. San Diego Humane Society offers a number of classes for puppies and adolescent dogs both in-person and online including our free Well-Socialized Pet Chats hosted over Zoom each weekend! These chats cover six topics related to socialization; how animals learn, desensitization to sounds, socializing with animals and people, conditioning body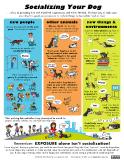 handling, exposure to novel objects and environments, and enrichment each of which are followed up by an email full of related resources. Sessions are appropriate for all pets of all ages; register for six consecutive sessions to hear all the topics.
This is where your Puppy Socialization Checklist comes into play. It is divided into two parts of activities for you and your puppy to experience together. The first part contains a priority checklist of activities you should try to expose your puppy to before they are 12 weeks old. The second part offers more ideas for activities that will continue helping their development. Ideally, they should experience all of these items before they are 18 weeks of age.
MAKE IT POSITIVE
When introducing your puppy to all of these new experiences, reward with treats and praise so they create a positive association with the new activity (How do we know what our pet finds rewarding? read this!). Observe your puppy's behavior to see if they are enjoying the experience; are they eating treats? Do they seem relaxed and comfortable? If not, take a break from the activity. Check out this B&T Lecture: Can You Speak Dog or Cat? to get an in-depth feel for the nuances of body language and then explore this video on reading body language while in the context of a training session.
TAKE IT SLOW
Doing too much too fast can lead to overstimulation, which can result in fear or anxiety. Start with small experiences like the feeling of grass, walking on tile or meeting one new person. Don't force your puppy to interact with a new environment or a new object; instead back away a bit until the puppy relaxes. Always give them a choice in how they engage with - or don't - new experiences. Then use a silly voice, treats and praise to help them feel more confident in approaching the scary item or sound. As the puppy becomes more relaxed, gradually they will get closer to the stimuli, pairing praise and treats with the experience.
WATCH OUT FOR
Please consult a professional trainer/behaviorist to assist you in your socialization process for fearful puppies who display extreme behavioral responses such as shaking uncontrollably, urinating/defecating, growling, snapping or biting. See the B&T Lecture: How to Pick a Trainer 101 to learn how to find an appropriate trainer.
For more info on early puppy socialization, visit the American Veterinary Society of Animal Behavior's position statement on early socialization.
PEOPLE
Adults
Babies
Toddlers
Children
Teenagers
Seniors
Different ethnicities
PEOPLE USING
Canes
Crutches
Metal walkers
Wheelchairs
Baby strollers
Backpacks
Luggage
PEOPLE IN UNIFORM
Police officers
Postal workers
Vet clinic staff
PEOPLE WITH
Umbrellas
Baseball caps
Helmets
Mustaches
Beards
Glasses
ATHLETIC FOLK
Joggers
Skateboarders
Cyclists
Rollerbladers
Roller skaters
Soccer players
INTERACTING WITH PEOPLE
Holding puppy
Touching paws
Touching muzzle
Touching ears
Touching collar
Checking teeth
Clipping nails
Brushing teeth
Checking between pads
Cleaning ears
Touching rear legs
Brushing/grooming
PEOPLE SOUNDS
Talking loudly
Laughing
Crying
Shouting
Arguing
Newborn crying
Newborn laughing
Infant crying
Infant laughing
Children playing
Children laughing
Children crying
Children shouting
DIFFERENT SETTINGS
Rides in vehicles (other than to vet)
Socialization classes
Vet clinics
Groomers
Elevators
Automatic doors
School grounds
Car washes
Walks after dark
Busy intersections
Crowds of people
Your family's homes
Sleepover visits
Department stores
HOME ENVIRONMENT
Phone ringing
Doorbell
Knocking at the door
Hair dryer
Vacuum cleaner
Dishwasher
Electrical appliances (i.e. blender, can opener, mixer)
Sweeping
Mopping
Guests
Gatherings in home
Repair people
Delivery people
Gardeners
Dropping a hair brush
Washing a load of laundry
OUTDOOR EVENTS
Parade
Live music band
People dancing
CONSTRUCTION SITES/ GARDENING
Jackhammers
Cranes
Front-end loaders
Bulldozers
Sledgehammers
Power tools
Forklifts
Carrying shovels
Wheelbarrows
Lawn mowers
Weed whackers
MOTORIZED VEHICLES
Cars
Motorcycles
Screeching brakes
Cars backfiring
Street cleaners
Garbage trucks
City buses
Electric wheelchairs
Firetrucks
Police cars
Mail trucks
UPS/delivery truck
ANIMALS
Friendly, healthy dogs
Puppies
Cats
DIFFERENT SURFACES
Going up stairs
Going down stairs
Ceramic tiles
Carpet
Slippery surfaces
Manholes
Grates
Grass
Gravel
Children's playground equipment
STRANGE SIGHTS
Scooters
Tricycles
Hula hoops
Remote-control toys
Flags/banners
Statues of people
Statues of animals
SOUNDS
Sirens on police vehicles
Sirens on ambulances
Sirens on firetrucks
Thunder sounds
Fireworks
Construction site noises
People yelling
Trucks backing up with alarm sound
CONTINUED DEVELOPMENT CHECKLIST
ANIMALS
Small pets (hamster)
Large birds (geese)
Horses
Goats
Pigs
Chickens
Ducks
PEOPLE WITH
Leg in a cast
Leg scooter
Baby carriers
Wagons
Shopping carts
Holding balloons
Rain coats
Sunglasses
Cowboy hats
Visors
Costumes
Masks
Beanies
Punk haircuts
Shaved heads
PEOPLE IN UNIFORM
Firefighter
Vet tech
Veterinarian
Ambulance attendant
Crossing guard
Meter reader
Telephone worker
Courier
ATHLETIC FOLK
Cross-county skiiers
Sledders
Snowboarders
Surfers
Windsurfers
Speedwalkers
Spectators at 10K
Paddlers (kayaks, canoes)
Hang gliders
Swimmers
Water-skiers
Martial artists
Bike couriers
Dodgeball players
MOTOR VEHICLES
Water scooters
Airplanes
Helicopters
Snowplows
Trolleys
Segways
Hoverboards
DIFFERENT ENVIRONMENTS
Boarding kennel
Bank
Gas station
Toll booth
Friend's home
Public transit
Country vs. city
Escalator
Pet supply store
Downtown
Boat ride
Petting zoo
Tunnel
Bridge
Outside day care
Active railway
Crowd of people clapping
Crowd of people cheering
Drive-thru
Sporting facility
Beach
Hiking trail
Office
Park
Boardwalk
Public event
Mall
Plaza
Coffee shop
Brewery
Restaurant downtown
Restaurant by the water
Fast-food restaurant
Tourist spot
Movie in a park
Pool
Lake
Inflatable pool
Home environment
Phone announces calls
Loud TV
Loud music
Kettle
Dog in bath/shower
Home office
House party
Maintenance people
Dropping a plastic container
Dropping a pot/pan
Popcorn popping
Fire alarm
Drying a load of laundry
ENVIRONMENTAL HAZARDS & NOISE
Snowblowers
Snow
Rain
Wind
Airport
Loud speakers
Building demolition
Sand
Wood
Tile
Marble
Watery or wet
Cement
Asphalt
Swinging bridge
Wooden dock
Tarmac (not on a hot day)
Artificial grass
Mud
Ice
OUTDOOR EVENTS
Hot air balloon
People singing
Farmers market
Beach party
Bonfire
Santa Claus
Easter Bunny
Mascot
Rodeo
Fair
Sporting event
Clown
Mime
Rush hour
A rally/protest
Street vendor
Food truck
CONSTRUCTION SITES & GARDENERS
Ride-on mower
Leaf blower
Electric hedge shears
Garden hose
Sprinkler system
STRANGE SIGHTS & SMELLS
Drunk people
Ice cream trucks
Strong perfumes
Strong cooking smells
Hammocks
Playground swings
Playground tunnels
Kites
Model airplanes
Low-flying airplanes
Air-filled decorations
Pinwheels
Loud kids' toys
Children in high chairs
Children in walkers
Children in swings outside
Children in swinging chair inside
---
Behavior Helpline: Contact our Behavior Team
For behavior questions, please contact our Behavior Helpline either by calling 619-299-7012, ext. 2244, emailing behavior@sdhumane.org or filling out our Ask a Trainer form. San Diego Humane Society Adopters can fill out the Post Adoption Consultation form to schedule their troubleshooting session. We aim to respond within 7 days, but responses may take up to 2 weeks. Thank you for your patience!
Note: Due to the potential for serious injury, canine and feline aggression are best handled by a professional who specializes in aggressive behaviors. Because phone or email counseling is inadequate for addressing serious behavior concerns, we ask that you contact a qualified professional for help. Please refer to the list of behavior resources here.
Questions About Public Classes
San Diego Humane Society offers training classes and resources to address a variety of needs for companion animals.
Our training philosophy is based on the behavioral science concepts of positive reinforcement. Training your pet using these concepts will not only help them learn new behaviors more quickly, it will also strengthen the bond you share.
Our website includes a current schedule of training classes or call 619-279-5961.
View Training Classes Gift a Training Class
---